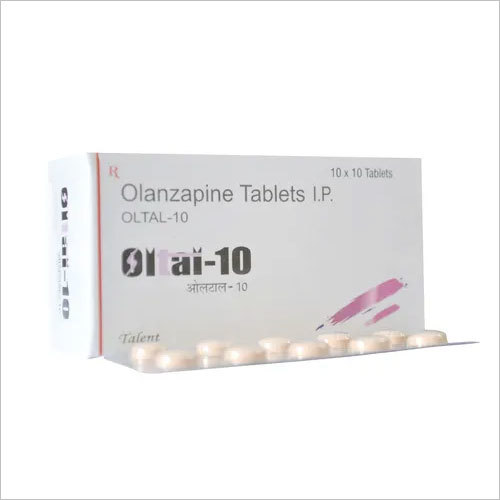 Oltal-10 Tablet olanzapine 10mg
Product Code : 576
Product Description
Uses
Olanzapine is used to treat certain mental/mood conditions (such as schizophrenia, bipolar disorder). It may also be used in combination with other medication to treat depression. This medication can help to decrease hallucinations and help you to think more clearly and positively about yourself, feel less agitated, and take a more active part in everyday life.
Olanzapine belongs to a class of drugs called atypical antipsychotics. It works by helping to restore the balance of certain natural substances in the brain.
Talk to the doctor about the risks and benefits of treatment (especially when used by teenagers). See also Precautions section.
OTHER USES: This section contains uses of this drug that are not listed in the approved professional labeling for the drug but that may be prescribed by your health care professional. Use this drug for a condition that is listed in this section only if it has been so prescribed by your health care professional.
This medication may also be used to prevent nausea and vomiting caused by cancer drug treatment (chemotherapy).
How to use olanzapine
Read the Medication Guide provided by your pharmacist before you start taking olanzapine and each time you get a refill. If you have any questions, ask your doctor or pharmacist.
Take this medication by mouth with or without food as directed by your doctor, usually once daily.
The dosage is based on your medical condition and response to treatment. To reduce your risk of side effects, your doctor may direct you to start this medication at a low dose and gradually increase your dose. Follow your doctor's instructions carefully.
Take this medication regularly to get the most benefit from it. To help you remember, take it at the same time each day. It is important to continue taking this medication as prescribed even if you feel well. Do not stop taking this medication without consulting your doctor.
Tell your doctor if your condition persists or worsens.
What conditions does olanzapine treat?
Side Effects
Drowsiness, dizziness, lightheadedness, stomach upset, dry mouth, constipation, increased appetite, or weight gain may occur. If any of these effects persist or worsen, tell your doctor or pharmacist promptly.
To reduce the risk of dizziness and lightheadedness, get up slowly when rising from a sitting or lying position.
Remember that your doctor has prescribed this medication because he or she has judged that the benefit to you is greater than the risk of side effects. Many people using this medication do not have serious side effects.
Tell your doctor right away if you have any serious side effects, including: difficulty swallowing, shaking (tremor), slow heartbeat, fainting, mental/mood changes (such as confusion, restlessness), numbness/tingling of arms/legs, yellowing eyes/skin, severe stomach/abdominal pain, trouble urinating.