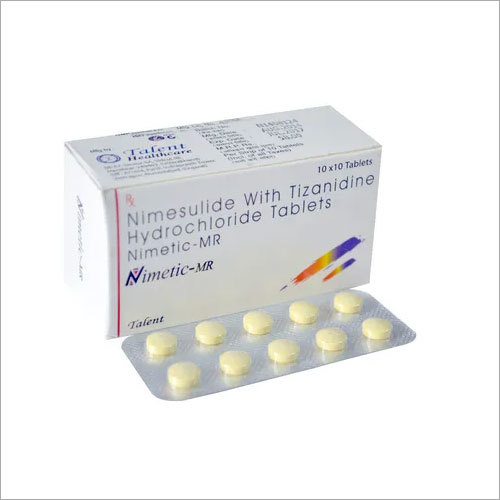 Nimesulide 100 mg + Tizanidine 2 mg
Product Code : 270
Product Description
Uses

Nimetic-Mr (Tizanidine/Nimesulide) Exhibits Muscle Relaxant And Pain Relieving Properties. Its Mechanism Of Action Is Interfering With The Pain Sensations Sent To The Brain And Inhibiting The Synthesis Of Cyclooxygense. Tizanidine Is Classified As A Central A2-Adrenoceptor Agonist, And It Affects Muscle Reflexes, Which Helps To Control And Manage Spasticity. Nimesulide Is A Sulfonanilide Nsaid (Non-Steroidal Anti-Inflammatory Drug), Which Can Reduce Pain And Inflammation By Inhibiting Various Mediators Of Inflammation. Combining The Two Drugs Helps To Effectively Control Conditions Which Are Associated With Muscle Spasms, Including Rheumatoid Arthritis, Spondylitis And Post-Operative Pain. It Is Also Used For Pain Caused By Injuries And Fractures.

Dosage And Administration

Nimetic-Mr (Tizanidine/Nimesulide) Tablets Contain 2Mg Of Tizanidine And 100Mg Of Nimesulide. Administration Is By Means Of The Oral Route. Physicians Normally Instruct Patients To Take It Twice Per Day. However, The Correct Dosage Might Differ Slightly From Patient To Patient, Depending On Factors Such As The Severity Of Symptoms And The Medical History Of The Person Being Treated. Therefore, You Must Not Exceed The Dosage That Your Physician Calculates For You. In Some Cases, The Period Of Treatment May Be Limited So As To Reduce The Risk Of Side Effects Associated With Prolonged Use.

Side Effects

Nimetic-Mr (Tizanidine/Nimesulide) Could Cause Side Effects. Ensure That You Notify The Physician Providing Treatment If This Happens. Some Possible Reactions Are Listed Here:

Sore Back
Nervousness
Drowsy Feeling
Pain In The Stomach
Sweating More Than Usual

Patients Should Also Take Note Of The Fact That Other Side Effects Can Also Be Caused By This Medicine, And They Should Discuss This With The Physician Before Starting Treatment. You Will Require Immediate Medical Care If You Suffer From Hallucinations, Strange Behavior, A Burning Sensation When Urinating Or Any Other Serious Side Effects Which Have Not Been Referenced Here.

Precautions

If You Are Taking Nimetic-Mr (Tizanidine/Nimesulide) You May Be Told To Avoid Activities Which Require Alertness (Such As Driving Or Use Of Machinery). This Is Because Drowsiness Can Occur After Taking The Medicine.

This Medicine May Not Be Suitable For Use In Patients Who Are Suffering From Certain Medical Conditions, Such As Renal Function Problems, Liver Cirrhosis, Depleted Salt Levels And Certain Other Disorders. Discuss This With Your Physician Before Starting Treatment.