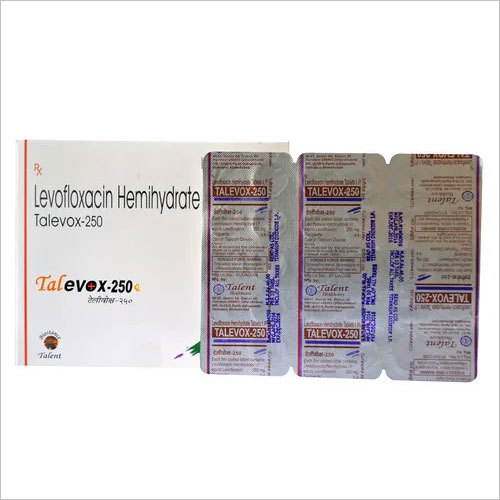 Levofloxacin 250 mg
Product Code : 570
Product Description
Uses

Levofloxacin medicine is specially formulated to cure several types of bacterial ailments. This drug is classified under a specific group of antibiotics that are effective in preventing multiplication of bacteria.
The offered medicine acts as a specialized drug for bacterial diseases and it is not effective for patients suffering from viral health complications like flu and common cold. In case this antibiotic is used when it is not required for a particular person, then chances are that, it will lose its efficacy in future.

How to use levofloxacin
It is advised to go through the Medication Guide that you have received from your chemist prior to consuming and refilling of levofloxacin each time. In case you have any query, seek advice from your physician or chemist.
This medicine is suggested for oral administration purpose. Follow the instruction of your physician while taking this drug. Generally, this medicine is prescribed to take for once on regular basis with or without consuming food. Drink enough water while administering this medicine or as suggested by your doctor.
It is suggested to take this medicine at minimum two hours prior or two hours after consuming other supplements or drugs to get the best result. The list of other products covers vitamins/minerals that include zinc and iron, quinapril, calcium or magnesium or aluminum enriched products (that include juice that contains higher amount of calcium, didanosine solution and antacids), sucralfate and so on. Consult with your chemist about all the products that you consume.
The quantity of medicine and duration of treatment depend on your health condition and reaction of your body with the suggested medicines. The quantity of medicine differs on the basis of the weight of patient in case he or she is a child.
It is advised to maintain similar gap between each administering time of this antibiotic to get the best result. You should take this drug at a particular time daily so that you can remember the correct time of its administering.
Finish the full course of this medicine as prescribed by your doctor, even though the complications are not visible after several days of its administering. Otherwise, the cessation of taking this medicine may cause the reemergence of the infection.
Consult with your physician in case your health condition does not improve and becomes even worse.