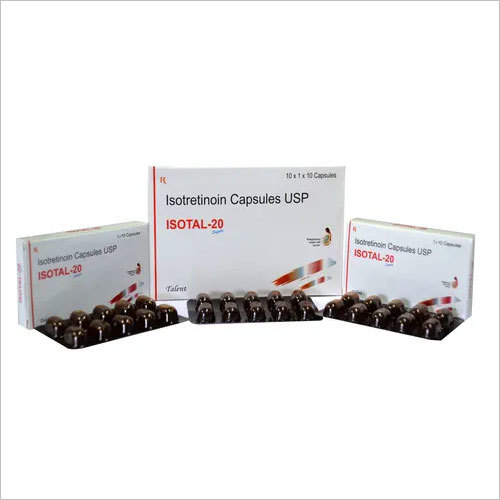 Isotretinoin 20 mg
Product Code : 174
Product Description
Isotretinoin 20 mg

The dose of isotretinoin patients receive is dependent on their weight and the severity of the condition. High-dose treatments are administered between 0.5 mg/kg/day to 2 mg/kg/day (usually at 0.5 to 1 mg/kg/day, given as a single dose with food). Usually a course will last 8–10 months. A second course may be required. Efficacy appears to be related to the cumulative dose of isotretinoin taken, with a total cumulative dose over each course of 120–150 mg/kg used as a guideline.
Nearly all patients achieve initial clearing of acne during a normal course of isotretinoin therapy. 90% of patients achieve excellent clearance of their acne after a cumulative dose of 150 mg/kg.
Lower-dosage treatments, such as 10–20 mg/day (approxi20 mgmately half the high dosage treatments above), can also be effective, with greatly diminished side effects. However, such lower dosage courses may be associated with higher relapse rates, requiring additional courses, especially if not taken for enough time.
Usually, a starting dose of 20 mg is taken with the largest meal of the day. After a few months, the dose is increased, e.g., to 40 mg/d. If side-effects permit, a higher dose such as 60 mg/d can be prescribed although daily dose rarely exceeds 60 mg. If 20 mg capsules are supplied, patients may take (for example) 20 mg one day, then 40 mg the next to provide an average daily dose of 30 mg/d. In most cases, isotretinoin achieves a complete clearing of acne during a standard-dose 12–16 week course. Some patients' acne will respond to a course before recurring, needing multiple courses of treatment.