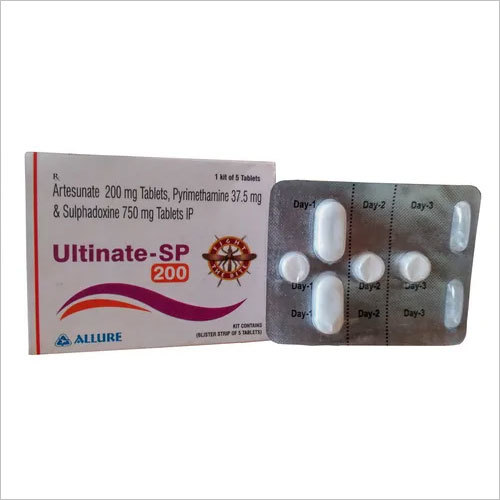 Artesunate+200+mg+tablets+pyrimethamine+37.5mg+and+sulphadoxine+750+mg
Product Code : 539
Product Description
Ultinate-SP 200 Kit is based on WHO recommended ACT-kit. Uncomplicated malaria is defined as symptomatic malaria without signs of severity or evidence of vital organ dysfunction. To counter the threat of resistance of P.falciparum to monotherapies, & to improve treatment outcome, combination of anti-malarials are now recommended by WHO for the treatment of falciparum malaria. recommends this combination as the ACT of choice for treating P.falciparum malaria all across India.
Composition: Ultinate-SP 200
Ultinate-SP 200 kit:
Each blister pack contain 3 tablet of Artesunate 200mg and 2 tablet of sulphadoxine 750mg and Pyrimethamine 37.5mg
Indications:
· Uncomplicated P.Falciparum Malaria
Pregnancy & Lactation:
Ultinate-SP 200 Kit is not to be given in 1st trimester of pregnancy. of India recommends Artesunate + Sulphadoxine plus Pyrimethamine ACT kit in 2nd & 3rd trimesters of pregnancy as per dosage given above.
Commercial Packing:
· Single Kit containing 6 tablets: